Every child deserves equal access to the proper tools for school, and with your help, we can make it happen.
Our Story
In 2017 Cathy Sitarz met a new client, Julie Frentz, an educator. Julie shared with Cathy about the school she was teaching at and the many needs of her students. Julie mentioned that many of her families were living paycheck to paycheck and unable to provide basic school supplies for their children.
Cathy asked Julie to lunch to talk more about the children, teachers and schools and their needs. Cathy wanted to help. The outcome of that first meeting became the foundation's first school supply drive. Over 600 school supplies were collected and donated to one school.
After that first drive, Cathy and Julie knew they had to keep doing something to help students, teacher and schools. In 2019, 2020 and 2021 annual school supply drives were held. Each year the number of items donated to schools and families grew. After four years, over 5,000 items have been donated to 12 schools!
With the help of others' generous hearts, Cathy, her husband Brian and Julie founded the Helping Children Succeed in School Foundation (HCSS Foundation) in 2022.
The foundation's mission is to continue helping children, parents, teachers and schools through the Valley by providing necessary school supplies and items needed for all to succeed.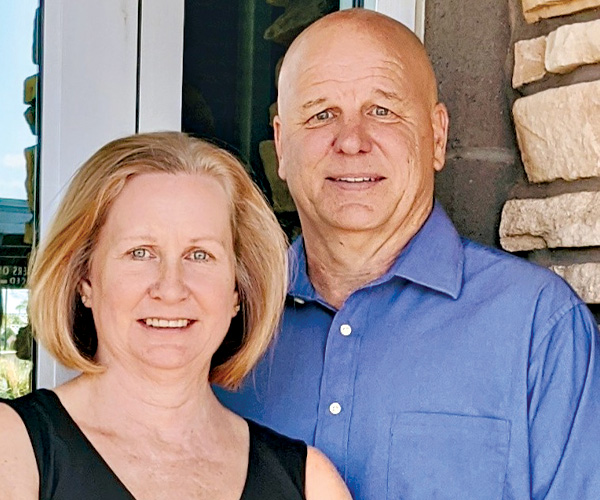 Cathy & Brian Sitarz, Founders
Brian and Cathy moved to Arizona 30 years ago from Michigan. They have 2 grown children and 2 grandchildren. Cathy has had a career in real estate since 2005 as an Associate Broker and aligns with Realty One Group. Brian has had a career in sales as a Regional Sales Manager that takes him to various cities on the west coast. He also works part time in real estate with Cathy. Helping Children Succeed in School Foundation is an opportunity for them to give back to the community that has supported them for many years. 
Julie Frentz, Founder
Julie Frentz is a 41 year educator, recently retired. She has served as a leader, teacher and advocate to children and their families in 5 different states. She is married and lives in the West Valley close to her 2 adult children, their spouses and a grandson. The HCSS Foundation gives Julie an opportunity to continue her service to children, families and schools.